ST Engineering InnovD Showcase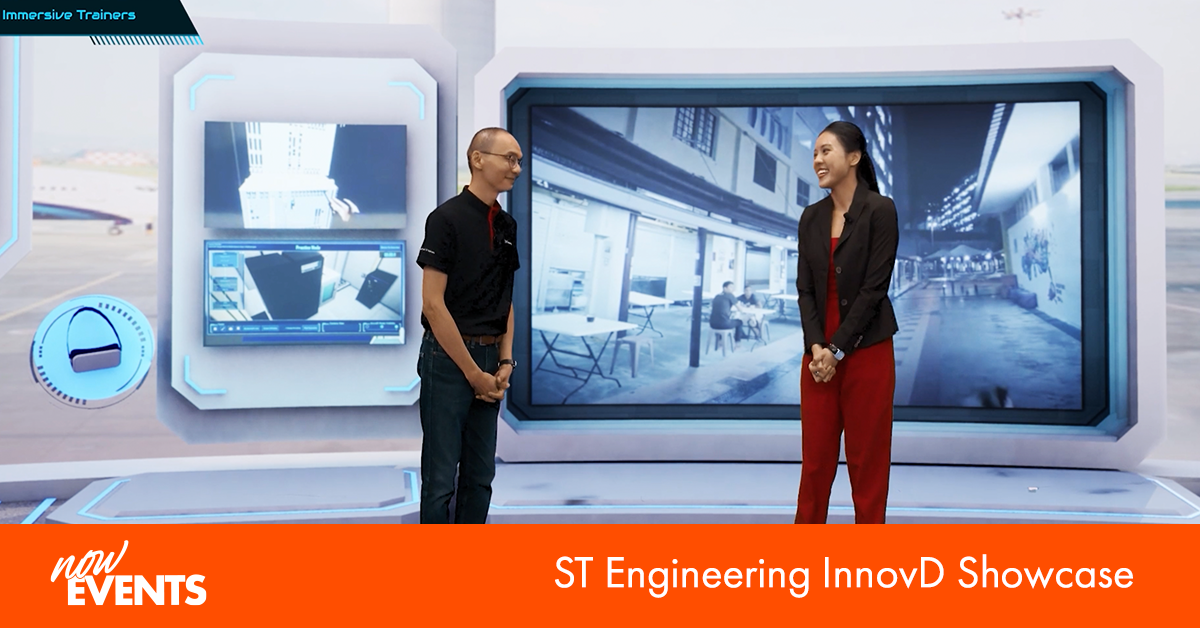 Today, the need for digitalisation and innovation to transform the way we operate is more urgent than ever. This sentence is applicable across every industry – including the events sector.
Which is why we are immensely proud of how we managed to conduct ST Engineering's InnovD Showcase Virtual Event. 
ST Engineering seeks to Innovate to Define, Design, Develop and Deliver (InnovD) purposeful solutions to solve not just pain points, but transform the way their customers operate. The purpose of this virtual showcase was to display ST Engineering's technological prowess and inventions ranging from emerging technologies like AI, 5G, cloud, cyber, robotics and even, extended reality driving their next lap of growth. 
What was typically a 3-4 months workload was condensed and completed in 5 weeks – a seemingly insurmountable challenge that we managed to conquer.  
Here is an overview of what we had to do for InnovD Showcase: 
– Pre-event recordings in studio for 6 speakers and the President across 2 days
– Build the assets for different 3D virtual backgrounds for all 6 speakers based on their virtual environment
– Virtual set creation for intro and their President's opening speech
– Setup of their registration page and updates
– Used our platform to conduct a Livecast
– Post-reporting
– Post-event video snippets
– Post-event highlights and behind-the-scenes footages
With our NowEvents platform, we were able to create a custom event microsite and registration system for our attendees – a level of customisation that is not possible with any other platforms in the market. In total, we gathered over 1,400 registrations in a little over a month.
The show was organized as a pre-recorded simu-live show to give the audience the impression of a live show while reducing the chances of technical issues – commonly associated with live shows.
For the show, we utilised a series of 3D Virtual Background behind the speakers to showcase our client's wide array of military equipment. Furthermore, we also engaged a bubbly and cheerful host, Ingrid Ho, who was able to interact with the various speakers from our client to make the show livelier.
Thanks to these innovations, the audiences were highly engaged and the show achieved a record low dropout rate of 1%. So it truly cannot be overstated how important it is to find an events platform that is adaptable enough to meet your event's needs – as it will go a long way in ensuring its success.